Conceived more than 20 years ago the World Post & Parcel rewards celebrates the accomplishments of the talents of the mail and express industry. We are delighted that for 2022 Asendia's
e-PAQ

range of cross-border delivery services has been shortlisted for an award in the category cross border growth.

In 2019 Asendia conducted international retailer surveys and focus groups in Europe and the US to discover what exactly online businesses need to convince overseas shoppers that delivery will be affordable, dependable, and sustainable.

In the following year, Asendia's global team analyzed our research and devised the e-PAQ range, specifically to meet customer delivery expectations, and help e-retailers grow internationally with confidence.
We embarked on the project:
To help e-tailers grow their business internationally


By offering international shoppers a choice of familiar, convenient, and affordable delivery options they are much more likely to hit the checkout button.

To minimize delivery queries and complaints


Our worldwide reach means we can offer tracking, customer support, and solutions to reduce issues at customs.
To reduce costs and save time
We've invested in technology and processes so that B2C cross-border logistics can be easier and more efficient.


To help e-tailers minimize carbon footprint


Asendia is 100% carbon neutral, which will assist e-tailers in their sustainability reporting.
Launch of

e-PAQ

in January 2021
We launched the e-PAQ range in January 2021, deliberately designed and presented to be modern, professional, memorable, and relevant in all territories. e-PAQ has four tiers, with a range of criteria based on speed, price, format, weight, and features. Together, these services offer convenient, contemporary options – giving our e-retail clients a competitive edge.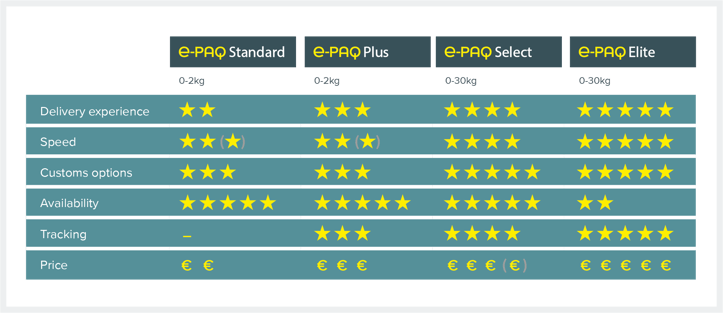 Asendia's Customer-Centric e-PAQ Delivery Range has been shortlisted for a Post & Parcel Award in the category Cross Border Growth. The winners of the World Post & Parcel Awards 2022 will be announced on the 11th of May. Visit their website here to find out more.